Knights of Columbus Council 12886 Scholarship Program
Apply now for the 2021-2022 School Year!
We are pleased to announce that we are offering the Andrew J Schock Memorial Scholarship for high school bound students and the Thomas J Mulkern Memorial Scholarship for college bound students of our parish. Awards are based on Faith, Leadership, Service and Educational Goals. Our college award is $2000 and our high school award is $500 (both non-renewable). Click on this notice for all details as well as to download your application. Responses must be postmarked by May 8th, 2021 to be considered. Use the "Scholarship Program" link in the menu for more information and to download an application. Good Luck!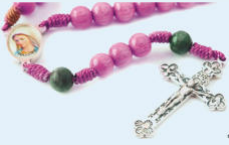 Pray The Rosary With Us - 3/31, 4/14, 4/28, 5/12
As Catholics we look to the Rosary to take us away from the trials and hardships of our own lives and to instead bring ourselves closer to Jesus and Mary by recalling significant events in their lives.
Beginning March 31st, and in the weeks following the Easter holiday, the Knights of Columbus are looking to celebrate the Rosary and the Easter season by reciting the Glorious Mysteries in a series of devotions at St. Ann's Church.
Please join us starting on 3/31 and every other Wednesday at 5:30pm in the church as we pray the Rosary together. If you can't join in person, you can go to our parish website to view and recite the Rosary with us from your home. Go to the Join Us at Mass button on the website and look for the weekly Rosary video in our Mass archive.
You can click here for full details and to download a copy of How To Pray The Rosary.
We look forward to praying with you this Easter season!
Catholic Men Putting Their
Faith into Action
The Knights of Columbus offers men a place to lead their families and communities in faith and service. Our council actively works to address the overall needs of our parish and community through the various events we sponsor and activites we participate in. If you are thinking this may be a good place for you, then we'd love to talk to you about membership.
There are only 3 membership requirements: you must be male, 18 years of age or older, and a practicing Catholic. If you'd like to be part of an organization of Catholic men whose principal work involves helping others then email us or use the Contact Us form to drop us a note.
Prayer to Venerable Fr. Michael J. McGivney
God, our Father, protector of the poor and defender of the widow and orphan, you called your priest, Father Michael J. McGivney, to be an apostle of Christian family life and to lead the young to the generous service of their neighbor. Through the example of his life and virtue may we follow your Son, Jesus Christ, more closely, fulfilling his commandment of charity and building up his Body which is the Church. Let the inspiration of your servant prompt us to greater confidence in your love so that we may continue his work of caring for the needy and the outcast. We humbly ask that you glorify your venerable servant Father Michael J. McGivney on earth according to the design of your holy will. Through his intercession, grant the favor I now present (here make your request). Through Christ our Lord. Amen.
---
Subscribe to our mailing list to be notified of upcoming events