Pray The Rosary With Us
Feb 28, Mar 7, Mar 14, Mar 21, Mar 28 and Apr 4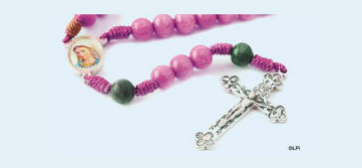 As Catholics we look to the Rosary to take us away from the trials and hardships of our own lives and to instead bring ourselves closer to Jesus and Mary by recalling significant events in their lives. The Mysteries of the Holy Rosary help us to meditate on these events.

Beginning February 28th, and each Tuesday during Lent, the Knights of Columbus are looking to celebrate the Rosary and the Easter season by reciting the Glorious Mysteries in a series of devotions at St. Ann's Church.

Easter is seen as a season of renewal, and the Glorious Mysteries will take us from the Resurrection of Jesus to the Crowning of Mary as the Queen of Heaven. This will be the perfect season to come together as a parish to celebrate these Mysteries.

Please join us every Tuesday at 6:30pm in the church as we pray the Rosary together. If you can't join in person, you can recite the Rosary from your home with a previously recorded session by clicking here.

You can click here to download a copy of How To Pray The Rosary.

We look forward to praying with you this Easter season!