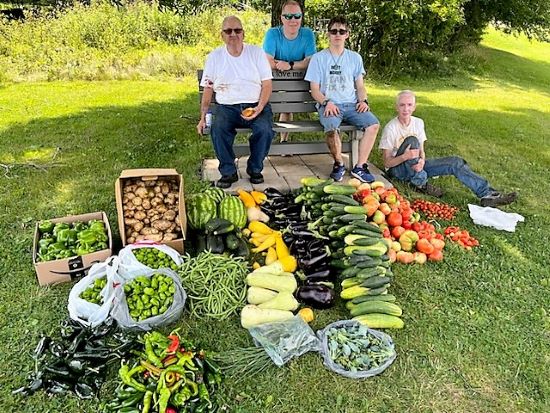 A big thank you to our garden crew yesterday – Frank Ferrandina, Larry Falcone, Bob Schneider, Justin Kaniper, Tim Smith, Dylan VanAllen, Sean McDonnell – for an outstanding and record setting harvest. Combined with several generous donations from parishioners we collected 472 pounds of fresh veggies.
Some highlights included over 114 lbs. of cucumbers, 40 lbs. of watermelon and 40 lbs. of potatoes. I lost count of the amount tomatoes and we had several different varieties of peppers (both sweet and hot) and squash. Take a look at the picture for more details. We quite literally stuffed our pick-up driver's car to the roof with vegetables!
This brings us over the 1500 pound mark for the year so far and there are plenty of tomatoes, potatoes, squash and pumpkin still to come.